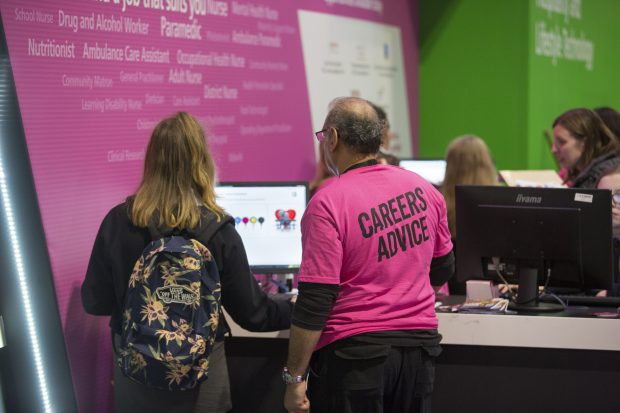 Val Hubbard is a lead product owner for the National Careers Service – she's part of the live service which is focused on developing digital services for customers and front-line staff. Val tells us what it's like working at the heart of a digital team.
What does a lead product owner do?
I'm responsible for the live service – this includes all products that are available on our website for the public to use. I have oversight of all digital product development for the National Careers Service, supporting new products as they go live.
A key part of my role as product owner is continuous improvement. I'm responsible for ensuring that my team continues to collect and understand user needs, through user research with citizens and interested parties, to help improve the service. This may require product development, bug fixing and ensuring the service aligns with future strategies and other services.
We learn what our citizens want using performance analytics – and if we don't have what they want, we look at how and if we can provide it. For instance, if we don't have a relevant job profile on the National Careers Service, then we work with experts in that field to create it. We've recently created new job profiles for emerging career options such as a vlogger or a drone pilot.
What key successes have you had as a team?
A key achievement for our team was when we successfully moved over 800 job profiles into the explore careers section of our digital service. This means that we can make a single change in our content management system that will automatically update each relevant job profile. An example is when the reformed GCSE qualifications moved from A-E to 1-9, we updated all the profiles in one go, rather than having to update each individual profile, saving time, effort and ultimately providing better value for money for the taxpayer.
What kind of skills do you need to be effective in your role?
People skills are key to my role. I have to solve problems and remove blockers so my team can keep moving forward. This might involve managing difficult situations both internally and with third parties so the ability to be resilient is also useful.
A can-do attitude – it's an exciting time to work for the National Careers Service so it's essential to be enthusiastic and able to look for innovative ways to get the job done, whilst ensuring the user remains at heart of everything we do.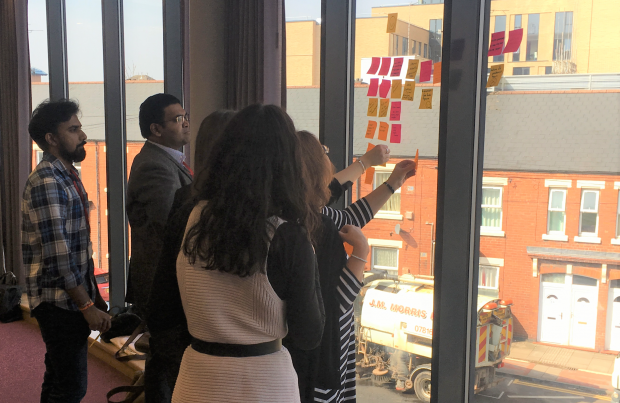 Tell us about a typical working day….
I attend daily stand-ups with the live service team where we review current workloads, any sprint blockers or design issues. I also attend daily meetings with the product owners who are developing tools for the live service – this keeps everyone updated with the progress being made, any resourcing issues and allows us to pick up any data integration issues.
Our work is exciting which means people are interested to hear about and see what we are doing. I regularly support our showcase tours with key stakeholders who want to learn more about the National Careers Service and see agile working in practice. From the Permanent Secretary to staff from other government departments, I'm regularly showcasing our work to others.
When I'm not working with the team or interacting with stakeholders, I can often be found having conversations with third party suppliers on how we make our products more visible – for instance through search engine optimisation. I also have regular meetings about resourcing requirements, new product discoveries and planning how we transition a new product into our live service – no two days are ever the same!
What do you love about your job? Anything you don't like?
An exciting aspect of my role is that my team are delivering a front-line service, providing high quality, impartial and free information, advice and guidance to citizens to help them make decisions on learning, training and work, and achieve to the best of their potential. Our service is available for everyone – whether they are starting out on their career, considering a career change or need support at a time of crisis such as redundancy.
However, as is often the way, getting things signed off can be a long process. This can be frustrating when I'm normally working to tight deadlines – luckily I enjoy working under pressure!
How did you get started in the digital industry and do you have any advice for others looking to join the industry?
I started off as a programmer in the private sector before becoming an application manager in the public sector. I then worked in project and portfolio management for DfE, before moving into my current role as lead product owner. I've developed a lot of skills along the way and there are many more opportunities to develop within the digital arena – more than enough challenges to keep me busy!
As for advice – why not contact the National Careers Service? There are professionally trained advisers available seven days a week from 8am – 10pm offering free and expert careers advice.

There are currently a number of vacancies within the National Careers Service team. If you are looking for a role in a new dynamic digital team then please click the link to find out more

To keep in touch, sign up to email updates from this blog or follow us on Twitter.