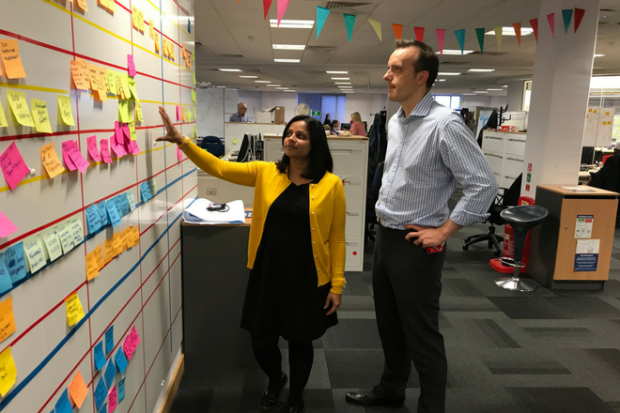 My name is Deepee and I work on the apprenticeship service. In this post I'll talk about how I became a delivery manager.
I've been at the Education and Skills Funding Agency (ESFA) for six years. I've always worked in IT: I worked for a software company before coming here. I started at the ESFA as a business analyst, then took on a couple of different roles but didn't really find one that suited me.
Learning the ropes
I realised something needed to change and that I needed to look for a new challenge. It was then I  got a new job as a service design and transition manager. During that time I showed an interest in the scrum master role and shadowed the scrum master on that programme. So I learnt some of the agile tools and techniques, and how to do standups. I also did some delivery management.
I'm not at all confident standing up in front of people but checkpoints and standups are natural to me now. When I started doing them, I was really lacking confidence. People say "You come across so confident!", but I'm really not.
Into delivery
15 months ago I was assigned to be a delivery manager on another service. I never actually took on that role. Instead I ended up coming here, into the apprenticeship service.
I was very nervous. I remember getting introduced to the programme delivery manager. He was very busy, but he was straightforward and to the point. The plan was for me to be a support delivery manager to start with. I had to kick off a discovery phase with the provider payments team.
Opportunity
I inherited a team made up of two business analysts, a user researcher, a technical architect, a product owner and a subject matter expert. I carried out some research and talked to a couple of people who had done delivery work. I looked online and found a plan (a template) that I thought would fit what we were doing and I kicked off my discovery.
People told me, "You've been given the chance - grab it!" I need to give credit where it's due. My line manager was great. He encouraged me to have a go: he said, "We won't let you fail. We'll be here to support you". Not all line managers would have let me do my own thing.
And the programme delivery manager was very supportive. I said to him, "I don't want to shadow, I want to run with it and ask for help when I need it". So, the contracted delivery manager ended up being the support delivery manager to me. I'm grateful to have been given that opportunity.
Growing experience
Slowly, I've become more confident. I've had to learn to work with different professions. My team's subject matter expert couldn't give the time we needed so we brought in another ESFA colleague from a different team to take the product owner role. I've enjoyed helping him, coaching him into agile, and how it all works.
I actually get a buzz from unblocking and getting things moving. I'd been offered project management roles in the past but I didn't want them. Project managers can sometimes be blockers - they spend all their time writing reports. In an agile environment, it's completely different: you focus on delivery all the time.
I absolutely love my job. I've never had this buzz before. It's all about proactively seeing gaps - and just doing it.
One thing I'm passionate about is helping other people in the team along on their journeys. For example, I helped one of our apprentices decide what she wanted to do when she finished her apprenticeship.
Piece of cake
Agile is the future because it's all about people. It's a framework you tweak to make it work for your team. Having retros means you understand how members of your team work, and what works for them. For example, I know if Sal doesn't have cake at the end of the day, he won't function! My team know I like a certain soft drink. Having a motivated team, allowing them to drive the way they want to deliver, how can that not work?
If you'd like to find out more about working for digital services at the ESFA, see our latest vacancies