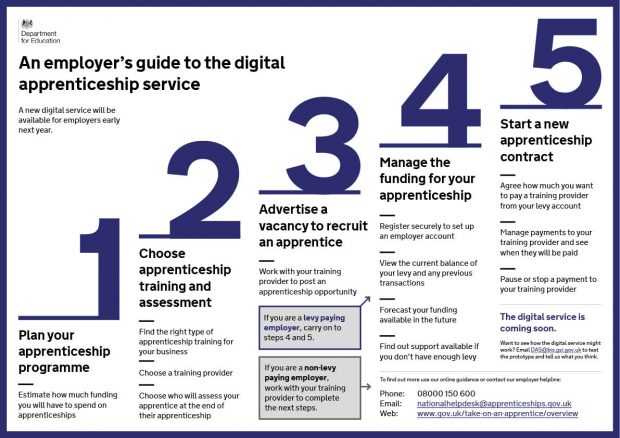 The UK is not as productive as many other developed countries. Employers tell us that this is because there is a lack of technical skills in the workplace.
Apprenticeships can meet that need by combining off-the-job training with a real job.
The apprenticeship reform programme has been designed to solve the UK's productivity puzzle. A key part of the programme will be the digital apprenticeship service which goes live in April 2017.
The digital apprenticeship service will help employers in four ways. It will:
Put employers in control
By setting up an account on the service, employers will be able to access funding for apprenticeship training, choose the type of apprenticeships they want to run, the number of apprentices they take on, and the training provider that suits their needs.
Offer new apprenticeships
The service will list the new apprenticeship standards which have been designed by employers for employers (and will be independently overseen by a new Institute for Apprenticeships.)
Focus on quality
Through the service, employers will be able to find the right apprenticeship for them, from entry level to degree level apprenticeships and beyond, and be able to find approved training providers to deliver the training.
Encourage diversity and social mobility
Apprenticeships are an accessible route for all people with aspiration, no matter what their background or circumstances. Degree apprenticeships will enable learners to study to graduate level without getting into debt. Through our service, employers will be able to access a diverse pool of talent.
Agile delivery
The digital apprenticeship service is being built by multi-disciplinary teams bringing policy, delivery and operations together across three government departments (the Department for Education, the Department for Business, Energy and Industrial Strategy and Her Majesty's Revenue and Customs) and the Skills Funding Agency.
The delivery teams work in an agile way. The result will be a set of services fit for employers, training providers and apprentices alike.
The way the government funds apprenticeships is changing. From April 2017, larger employers (with a wage bill of over £3m) will have to pay a levy towards training apprentices. They will be able to manage this funding through the digital apprenticeship service.
The cost of delivering the core digital apprenticeship service, including build and operating costs, are expected to be less than 0.5% of the value of the levy which will be collected and managed over the parliament.
How it will work
There are five main employer-facing services which are currently being developed. The first three are live and we're testing the other two right now - get in touch if you'd like to do that with us.
Estimate apprenticeship funding: employers will be able to calculate how much they will have to spend on apprenticeship training, before the levy is introduced
Find apprenticeship training: employers will be able to find the right training provider and apprenticeship type to suit their business
Recruit an apprentice: employers will be able to work with their training provider to post an apprenticeship opportunity
Manage your apprenticeship funding: employers will be able to register securely to set up an employer account and access their apprenticeship funding
Add an apprenticeship: employers will be able to set up their chosen apprenticeship package and authorise payment to their training provider
Training providers will be able to add apprentices, submit data and sign contracts.
Finally, the find an apprenticeship service will continue for everyone interested in applying for an apprenticeship.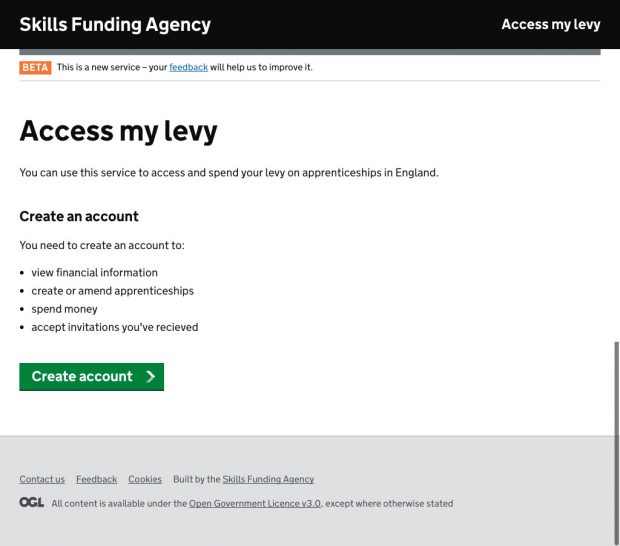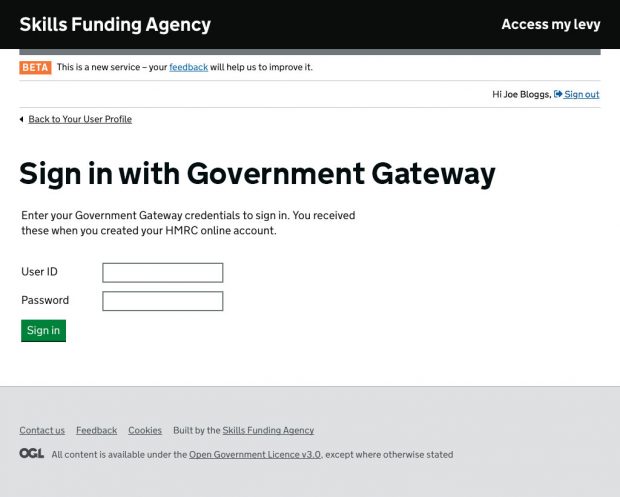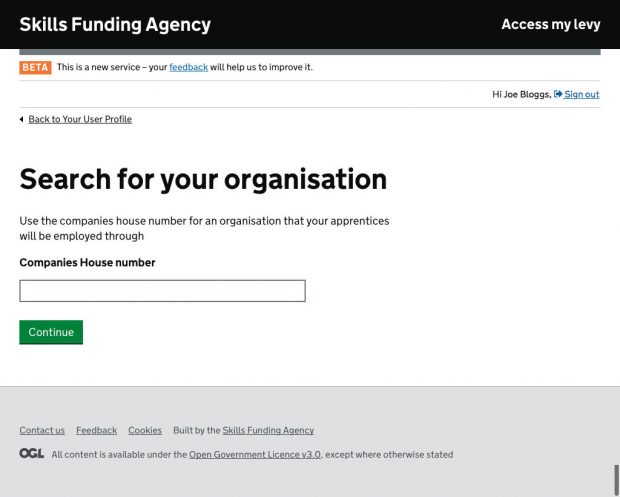 Follow our progress
Over the next few months, we will be publishing regular blog posts, talking in detail about how the end-to-end service is being built and sharing what we've learnt with you.
The updates will be published here on the SFA Digital blog. To make sure you don't miss a post, sign up for email updates or subscribe to our RSS feed.
For more details on the policy which underpins the service, see how the apprenticeship levy will work.
For more information on getting an apprentice, go to the National Apprenticeship Service or call 0800 015 0600.