Earlier this week I was made aware that a Project Manager working on an Agile project was having problems with completing / projecting a Burn Up chart. I was asked if I could do some research and find a simple solution to the problem as the tool he was using wasn't working in the way it was intended.
I spent a couple of hours trawling the internet and downloaded a couple of free tools that seemed to cover the requirements.
The first thing I found is that these tools can be fairly complicated. They contain a lot of good, but confusing, options including variance / confidence calculations and estimated effort by priority. Having all these features can confuse, rather than help, people new to the processes.
The tool I favoured was from a website called Agile Velocity. I decided to simplify this tool to use three tabs:
A data tab to input:

milestone information
delivery velocity
cumulative point completed
overall planned points totalled

A Burn Up chart
A Burn Down chart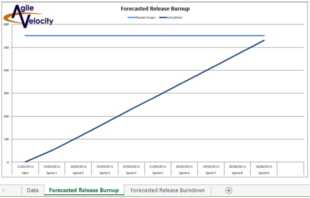 I presented this tool to the Head of Agile and it was met well. I then met with the original Project Manager to show them the new tool and how it worked. The feedback I received was 'that's exactly what I needed'. Can't ask for anything more really.
My question this week is: have you experienced similar problems? Have you stayed away from agile tools which seem overly complicated, or have many more features than you need?