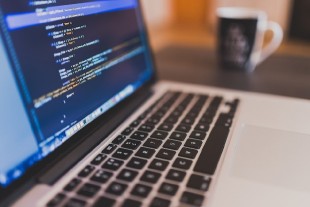 As in any organisation, at the SFA there are lots of little opportunities to use digital to improve internal processes and make things clearer, simpler or faster for our staff. Understandably, these "micro projects" usually take a backseat to our larger digital transformation programmes.
I work as a Lead Developer in the Solution Design and Innovation team. Part of my role is to look at these micro projects and rapidly develop small-scale digital solutions which:
help our staff work more efficiently or effectively
improve things for our users, or
prove a concept
The projects I work on are relatively small, perhaps a few hours', or a day or two's work. Before we had an in-house digital team, the only way to get these pieces of work done would be to outsource them but, because the projects were so small, it was simply not worth the time or expense to do so.
Over the last few months, we've worked on a number of small solutions and prototypes which have helped improve things for our staff and our users. The variety of work also provides a good opportunity for our two new apprentice developers to learn new skills.
Below are some of the projects we've been working on.
Designing mock-ups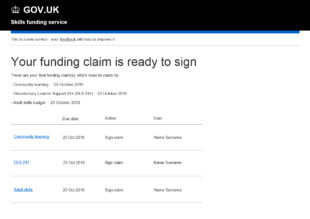 The Funding Claims Signature project is creating an easy way for the SFA to sign off training providers' requests for additional funding. As part of the Discovery phase of the project, a prototype of the service was going to be built. Instead our Visual Designer, Arif Liya, quickly designed a mock-up of the service using Axure.
Designing the mock-up, rather than coding a prototype, saved time and allowed the project team to demonstrate to the service to the business at an earlier stage.
Automating a manual process
Every week the SFA's Funding and Programmes (F&P) team is sent lists of qualifications by a large number of Awarding Bodies. The lists used to be sent as Word documents, each of which had to be manually checked then copied into a master spreadsheet by a member of the F&P team - a time-consuming process.
In the medium-term, this is a problem which could be solved by developing an online service. As a quick, short-term solution, I worked with the team to develop a spreadsheet which is now sent to Awarding Bodies to complete. Once all the spreadsheets are returned a macro automatically checks them for errors then compiles all the returns into the master spreadsheet. This took a few hours to develop and is saving the F&P team several days of work each month.
Prototyping an app as a proof of concept
The government is keen for apprenticeships and degrees to be viewed as more equal in status. One of the perks of being a university student is the student discount card! While apprentices can buy an NUS Extra card, students can get discounts simply by showing their University ID card – there is currently no equivalent for apprentices. This was something the SME and Learner Policy team were investigating.
As a proof of concept, the team asked me to develop a prototype android app which would allow apprentices to login and have their "virtual" apprenticeship ID card appear on the app. Although the app isn't something currently planned for development, the prototype is useful tool for the team to use when talking to colleagues about their ideas.
Work at the SFA? Got an idea?

If you work at the SFA and have something you think the Solution Design and Innovation team could help you with, please get in touch with me.