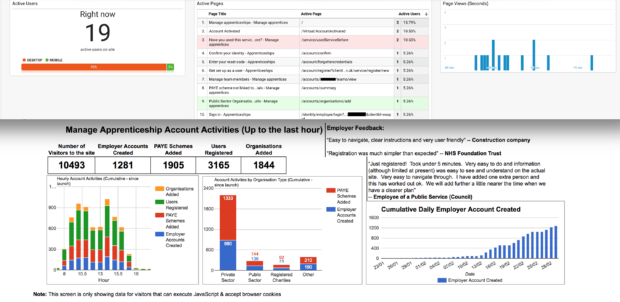 The apprenticeship service launch into public beta has so far been a success. We deliberately kept the launch small to start with, giving the teams time to test functionality, operational processes and policy impact.

The support team has been successfully dealing with queries from employers: so far we have taken 820 calls and emails. A very small number of these have been about technical issues; most have been around the structure and set up of PAYE schemes and connected companies within the account, and we have used these queries to refine and improve our guidance in these areas.
User feedback
A gradual launch like this is an ideal scenario, a 'soft launch' enables the team to add, tweak and change based on user feedback.  If users do have any problems then we can react very quickly in a very agile way. My role as service manager is to sign off all changes before they are released to the public. To help me with this, I have a live feed of statistical analysis on a permanent monitor next to my desk so that I can monitor in real time if the changes that we make to the service are having an impact. It makes the work very exciting.
In general, the feedback from employers has been positive.  Currently we have a 86% user satisfaction and comments like "quick and simple", "easy to use" and "very user friendly" are a reassuring precursor to the work we are doing prior to releasing more substantial functionality to the account in March.
What next?
Next comes the big job of launching 'add an apprentice'.  This will allow the employer and their selected training provider to collaborate on adding apprentice details into the account and setting up payments.  The operations team is busy finalising agreements to be signed by employers and providers prior to any payments being made, and support teams are being lined up to ensure they have sufficient knowledge to be able to respond to queries and incidents immediately.
For me it's about ensuring that we are meeting the high standards for digital services set by the Cabinet Office.  We are continually testing with employers and training providers and the team works in a very agile fashion. Final bits of testing are happening to ensure that the system is secure, we have detailed key performance indicators and the communications and engagement preparation is in full flow. There is a real buzz here now that registration is in full swing.
The delight around the office when we have reached 100, 1000, 1500 users registered will be nothing compared to the celebration when our first apprentices are added to the system, and then our first payments. We are all very excited: it's the culmination of a great deal of work and we are ready to launch and continuously improve a system that will genuinely change lives.
Find out more
If you are eligible to pay the apprenticeship levy in April and haven't already registered for the service, you can sign up here. If you have any problems or queries about the service, email us or call 0800 015 0600. For blog updates, sign up for email notifications or follow @ESFAdigital on Twitter.