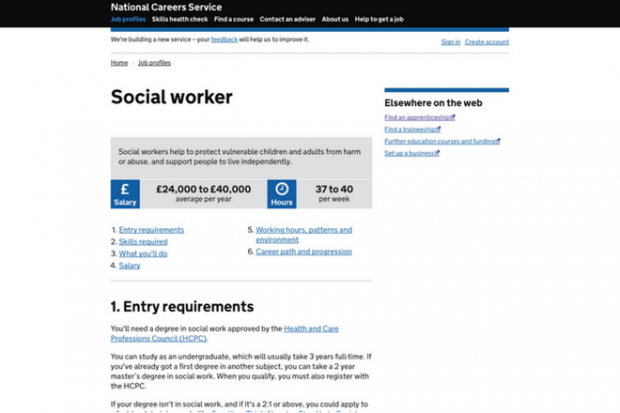 In recent user testing of the digital careers service, we have had our eyes well and truly opened about what users think of apprenticeships as a career choice. We've been looking at what we need to do to support and help them in understanding specific routes into work.
Many of the 16 to 18 year olds we tested with were self-aware enough to know when they didn't want to pursue full-time education beyond sixth form.  Many said, although they had started sixth form, they didn't feel they were doing well and wanted to have a plan beyond the current academic year.  The priority for this user group was to get into the workplace and gain experience as well as to earn some money.
We chose these early adopters of the service to test with because our focus was to better understand those who feel sure they don't want to continue to follow an academic path but want to find routes into work.  We had already heard from this user group, through discovery and alpha research, that they felt like they hadn't received any careers advice at school and that they were a bit confused about their choices.
Using job profiles
Web analytics tell us that around 75% of current users of the National Careers Service arrive straight into our job profiles via an internet search, using terms such as:
"How to become a social worker…(police officer, train driver...or whatever specific specialism, role or job they are interested in)."  
The early user tests were set up to help the team understand how a young person consumes our job profile information, and if or how they use it to make decisions about their futures.
The initial findings were clear and confirmed what we had prototyped and tested in alpha. Users want to browse, search, and consume information about the careers they are interested in…phew!  Users also want to understand very quickly what salary they can expect, the working environment, average weekly hours involved and whether they have the skills needed to do the job now or if they need to re-train.  
Thinking about apprenticeships
Surprisingly, and without prompt, 16, 17 and 18 year olds were referring to apprenticeships a lot during the testing of the profiles.  Many admitted they had thought about apprenticeships lately but most would like to pursue a career in the thing they were most interested in.  We heard comments like:
"It's easier to get a job if you've been an apprentice because if you go to uni and get a degree, there isn't 100% chance that you're going to get a job."
We had already unearthed the non-age specific user need to get to live job vacancies from our service. Hearing this reaction about apprenticeships from a series of younger users quickly helped us arrive at the decision to feed live apprenticeship vacancies into the heart of the job profile.
I didn't know I could do that!
Initial testing has revealed that live apprenticeship vacancies are helpful to this user group in facilitating a meaningful, onward journey from the job profile.  In particular, it proved helpful to some users to know that apprenticeships existed in the field they were interested it.
In our initial release we intend to reveal the most recent and relevant vacancies by mapping apprenticeship vacancies to our structured job profiles which are underpinned by Standard Occupational Classification (SOC) codes.  Users have responded well and we have heard comments like:
"I didn't know you could do that as an apprenticeship."
By revealing a couple of vacancies only, the user is reassured that there may be an opportunity for them in their local area, in the thing they wish to pursue as a career.  Early indications show that users would potentially click through to Find an Apprenticeship to do a more thorough search to suit their specific needs.
Smooth transition
It's early days in the digital careers service beta build but it is promising to see that a good percentage of our service users can potentially experience a smooth transition between our citizen-facing services.
In joining up our data, we can support future apprenticeship journeys that may have never emerged, had they not searched for "How do I become a…?" and landed in on a careers service profile.
You may also be interested in: