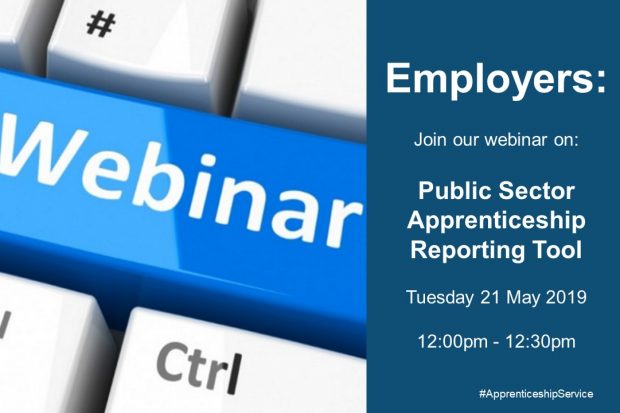 'Never put off until tomorrow, what you can do today,' said grandmothers everywhere. Here at the apprenticeship service our grandmothers would be proud of us because our new revised public sector reporting tool allows organisations to submit their report a full six months ahead of their deadline.
All public bodies in England with more than 250 employees must submit an annual report on the apprenticeship target. This report helps the government understand how public bodies are contributing to the national target of creating three million new apprenticeship starts by 2020.
This individual target for each public body is to employ at least 2.3% of their workforce as new apprenticeship starts for the period 1 April 2017 to 31 March 2021. Reports submitted using the public sector apprenticeship reporting tool, which is  found within the organisation's manage apprenticeships account, have to be completed by 30 September each year from 2018 to 2021. However, public bodies are able to submit their report anytime up to and including the deadline. This year, changes have been made to the tool which allow organisations to amend their report after submission. The report from last year will be available for view but cannot be amended.
Other changes that have been made to the tool this year include a revised word count for answers to questions on, the actions the organisation has taken to meet its target, factors that have impacted its ability to meet the target, and what actions are planned to help the organisation to meet its target in future. Last year these questions had to be answered within 250 words but this year the limit has been doubled to allow for more detail to be included, if required.
Certain public bodies are still exempt from submitting a report, such as the BBC, Channel 4 and the Post Office Ltd. FE colleges are also exempt as they are not seen as wholly public bodies.
If you plan to begin your report, remember that although it is short, key pieces of information are required to complete it.
These include the number of employees:
the organisation has working in England.
taken on during the reporting period.
currently doing apprenticeships in England.
that started an apprenticeship in England during that reporting period.
The Apprenticeship Service will hold a webinar on 21 May about how to use our revised public sector apprenticeship reporting tool.The webinar will help public bodies who use the tool to submit an annual report on apprenticeship numbers. The tool can be found within the organisation's manage apprenticeships account. The 30-minute webinar will take place at 12 noon on 21 May.
To sign up, please visit the webinar registration page.
For more information, read the GOV.UK guidance on how to complete your public sector apprenticeships report .