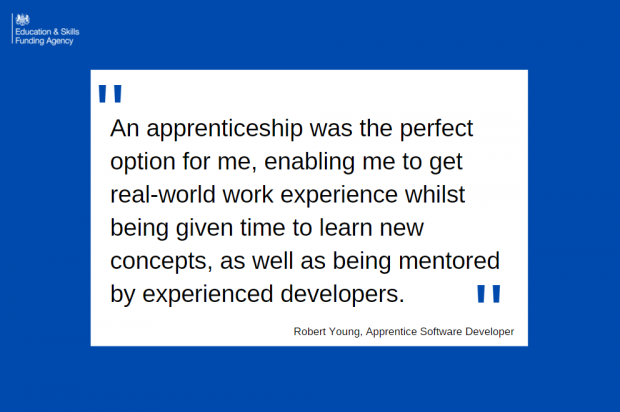 My name is Rob. I'm a 29-year-old Mancunian and I joined the Department for Education (DfE) in January 2020 as an apprentice developer, being a recent graduate in chemical engineering who didn't fancy living on an oil rig. The small amount of knowledge of web development that I had prior to joining the DfE was gained from the plentiful free resources that can be found on the internet. Whilst self-study is good for learning the basics, nothing beats the experience of working in a delivery team. An apprenticeship was the perfect option for me, enabling me to get real-world work experience whilst being given time to learn new concepts, as well as being mentored by experienced developers.
My apprenticeship is Level 4 Software Developer, and it will last 18 months. I will have to pass an exam as well as produce a portfolio of work. The apprenticeship is delivered as a mixture of on and off the job training, with the external training being provided through monthly 2-day workshops. In order for my skills to be assessed, I will be sitting a Microsoft programming exam, submitting a portfolio of work, undertaking a week-long assessed synoptic project, and being interviewed by an industry specialist.
My entry into the civil service went very smoothly as I settled into the office in Manchester and made friends with the 5 other apprentices in my software development cohort. I spent the first months on the job studying the programming languages used within our teams at the DfE (C#, .NET) and was closely mentored by an experienced developer. The apprenticeship workshops gave me a great foundation to build on at work and covered a range of key skills that a developer needs, such as usage of version control, continuous integration, databases, and testing. I found the transition to working from home to suit me well due to the fantastic digital community presence in place at the DfE, and have kept in constant contact with my colleagues using Teams and Slack. I have enjoyed using the "Give control" functionality in Teams to allow for remote pair programming.
I joined the apprenticeship service at the end of June and began work in the analytics team. I found myself working with technologies and concepts that I had never seen before and ended up learning a lot about databases and SQL. During my 6 weeks with the analytics team, I shadowed engineers who were working on bringing data from the apprenticeship service into a central repository. Analytics from these are used to advise the senior management team and measure the performance of the different services in the department.
After this, I joined the Find Apprenticeship Training team which is a team in the Apprenticeship Service. This team is hard at work delivering the new and updated version of Find Apprenticeship Training and uses technologies with which I am more familiar. The FAT team works in an agile way, in 2 week sprints, with a short feedback loop that I find to be very useful for learning as a new developer. There are a variety of roles within the team, with 3 developers, a tester, a UX/UI designer, a content writer, a user researcher, a delivery manager and a product owner. This has given me insight into the wide range of skills and expertise that are needed to build, maintain, and improve the services that the DfE deliver. So far, I have been assigned several tasks, which I have enjoyed completing (with plenty of help and guidance from the senior developers on the team).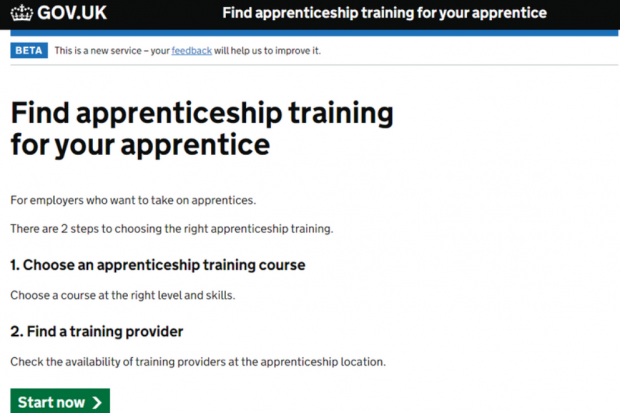 Overall, I've had a great time working in the DfE so far and have thoroughly enjoyed my apprenticeship. I have found the apprenticeship service to be a very welcoming environment to work in and have learnt a lot. I would also definitely recommend an apprenticeship as a route to getting started with a career in software or web development.