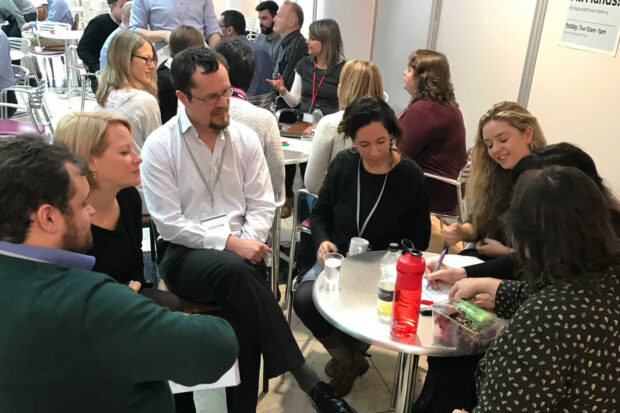 Today we take the end-to-end digital apprenticeship service to GDS for its private beta assessment. As service manager, it's my job to make sure that everything is in place.
During assessment, the service will be tested against all 18 points on the Digital Service Standard. Passing the assessment means the service can move into public beta in January.
Storytelling
Everything needs a shape and a focal point - whether it's a photograph, a painting or a strategy. GDS service assessments are just like that – the assessors want to see an easy to understand pattern and a process: what is the user need? How have you iterated to meet that user need? How have you tested? And how have you ensured you can do this instantly and quickly using flexible, mobile technologies?
Explaining is an art form – and service assessments need good storytelling. It's a time when personas (a product and tool of the user researcher) really come into their own. We need to show what a certain type of person would do or see, and how would they react, at every point in their journey. We need to demonstrate how an assisted digital user would get help. We need to show we will ensure users are not disorientated if, for any reason, the site goes down.
As much as possible, the explanation and storytelling should be woven into the demo during assessment. After all, that's what the assessment is about and the assessors can tell easily if something isn't right.  
Off the blocks
Assessment for the service actually started four weeks ago - I'm keen that the assessors see how we work as well as what we've produced. I've heard users (employers, providers and apprentices) say so many times, "this is so easy, I can do it myself without any help". It'd be great if assessors could hear this.
The apprenticeship service facilitates self-serve and employer ownership. It shifts power from a provider-driven apprenticeship system to an employer-led service, so employers' skills needs can really be met (in GDS terms, this should be a "whoop!" moment). I want GDS to experience all of this - so my user researchers meet the assessor before the assessment.  Technology, design and performance metrics are shared. It all helps, given that the apprenticeship service has so many different parts.  
Private beta
I'm confident we're ready to move to the next phase. Over the past three months the service has been thoroughly tested from end to end by 100 employers and their provider partners. To start, we had to have a representative sample of users, including those with assisted digital needs. And we split the testing into three distinct waves:
Onboarding and registration

Adding an apprentice to reflect the agreement between the employer and the provider

Submitting provider data to evidence training and trigger payments
Feedback has and still is being incorporated. The elements that were tested during private beta connect with our existing live services (Find an apprenticeship, Recruit an apprentice and Find apprenticeship training) to deliver the full end-to-end apprenticeship service.
Continuous delivery
This is a huge team effort. All in all, 7 scrum teams have been involved - and representatives from each of the 7 teams will help tell the story during our assessment today. When we move into public beta, we'll learn even more.
The end of private beta is just the start of the journey - a digital service needs care and attention. It's like moving into a house: we decorate, build, patch, maintain, extend…it never ends. But we do all this to meet user needs. What I'm hearing now from users - 'it's so easy' – is exactly what I want to hear in 5 years' time.
Follow our journey
This is the fifth post in our series on the digital apprenticeship service as we blog our journey from private beta to live. Follow our progress by signing up for email updates or subscribing to our RSS feed.