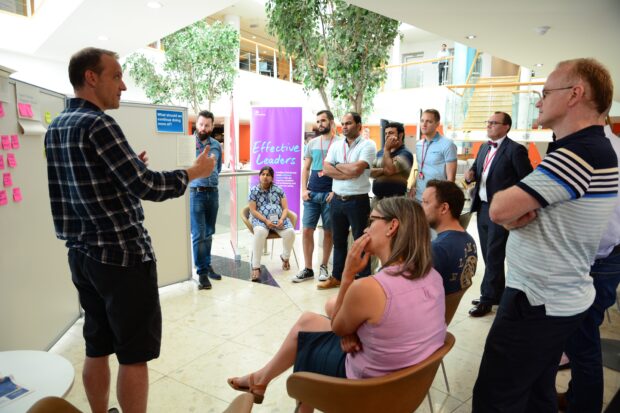 Rarely in your daily working life do you stand back and think about the impact of what you are doing on lives, the economy, employers. I remind my team every day that what they do is changing lives.
Making it easy
I will always look back with fondness on the user testing my team did with young potential apprentices at the The Custard Factory in Birmingham and watching them navigate through the system (find an apprenticeship), commenting on how easy it was. These were young people, some of whom had low confidence. They were worried that the system that we had developed to allow them to search and apply for apprenticeship vacancies was going to be similar to the systems they had used previously. This wasn't the case and just watching them smile and say 'that was easy' made all the hard work worthwhile. It's an important milestone for find an apprenticeship this week as the number of applications has now reached an impressive 3.5 million and continues to rise.
New system
Two years on and we are in a similar situation, rolling out the apprenticeship service to employers. It's a double whammy because it's not just the employer who is able to spend levy funds on apprentice training, but the apprentice who applied through find an apprenticeship will now be added to the employer's account. This same apprentice will then go on apprenticeship training with a provider that the employer found on find apprenticeship training.
We have been in public beta now for a number of months, allowing employers who want to make their commitment early to add apprentice details. The new apprenticeship funding system started on 1 May and employers have been through the entire journey from registration to adding apprentices to the ESFA paying their provider. And so far, so good; we have had thousands of apprentices training being paid for with levy funds through the apprenticeship service. Apprentices who will start and hopefully go on to do great things.
Changing lives
We are now seeing the fruits of all of that hard work by digital, operations, policy, support teams – the list is long – but it's something to be proud of. My developers, who I encourage to go on user testing sessions so that they can witness the looks of delight on users' faces, laugh when I tell them that they are changing lives and the economy for the better, but they truly are. And I will continue to champion this message, because daily life in the apprenticeship service is hard work.
For the user though, it is anything but hard work as we ensure that applying for a vacancy, registering for an account, adding apprentice details or searching for a provider….is easy, and we will continue to ensure that it remains this way.