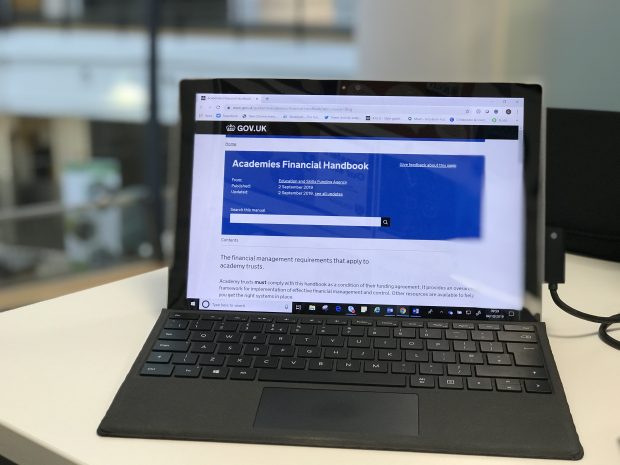 Chris Dry and James Fisk from ESFA's Academies and Maintained Schools directorate (AMSD) describe how they have used a prototyping tool to transform the Academies Financial Handbook into a digital product.
This year, for the first time, we've published the Academies Financial Handbook as a 'digital' product.
This replaces the reliance on PDF and instead uses GOV.UK's HTML manual content type. This is a big change, but a necessary one, and we're excited about how this new format will help users find information more quickly, understand their reporting and other requirements, and have easier access to the resources available to them.
For academy trusts, the Academies Financial Handbook (AFH) is perhaps one of the most important documents that the ESFA publishes. It sets out the financial management, control and reporting requirements expected of academy trusts.
It's also one of the ESFA's most heavily used resources with more than 4,000 page views each month and, since we relaunched as a digital product in September, became one of the most used manuals on GOV.UK.
Each year the AFH is updated ready for the new school year, and every year we look to improve it to meet the changing needs of our users.
Why did we change the AFH?
An evaluation of how users engage with the AFH revealed that users were revisiting the PDF repeatedly - which isn't surprising given its importance - but it meant that each time they revisited they had to browse the whole document to find what they needed.
On top of that, we found that the vast majority of traffic to the AFH came from 'organic' sources - that's users searching for our content through a search engine such as Google or Bing. Moving to a digital publication means search engines will reveal keywords in the content more readily and help people find what they're looking for without the need to search within a PDF. In theory, the manual format offers users the chance to short-cut right through to the information they need directly from search engines.
Users will also benefit from:
no more 'versions' of the same document; just the one online version that will always carry the most current and up-to-date information
better accessibility - there's a useful list of accessibility improvements in this post from Government Digital Service (GDS)
more detailed analytics on how the AFH is used, leading to better refined content
It was straight-forward, right?
Not quite. In order to publish content, civil servants use the government's Content Management System (CMS), 'Whitehall publisher'. If we're creating or updating a page, we'll create a draft and share it with our colleagues before publication. Unfortunately, with the manual format, that's not possible.
Feedback from colleagues is vital, so we needed a way to get a 'prototype' of the manual that we could share freely with colleagues in policy and operational roles prior to publication. Fortunately, the GDS has published some excellent guidance on how prototype pages can be made with just a basic understanding of coding, some perseverance and lots of cups of tea.
Being able to share a draft of the manual meant we were able to incorporate feedback from a variety of stakeholders before going live. For instance, the numbering of sections and their position within the manual were things we relied on our stakeholders to tell us – something they wouldn't have been able to do without the prototype.
Prior to creating the AFH prototype we had little-to-zero coding experience. In all honesty, once we'd decided to go ahead and build the prototype there were some concerns that we might not be able to pull it off. That changed quite quickly once we familiarised ourselves with the GOV.UK guidance on prototyping. From coding pages in Atom (software you can use to edit HTML text), to deploying them in Heroku (a free hosting platform for your site), the guidance was clear, simple and took us step-by-step through what we needed to do.
Take a look
The AFH manual is now live on GOV.UK.
We'll be monitoring how users engage with the AFH over the next few months. The insights we'll get from the manual will let us know which sections are the most popular, which links are most used and much more, to help us improve future editions.
We'll also make use of Google Analytics, Data Studio and a variety of analytic techniques to understand our users better.
We'll continue to refine the manual to better meet the user needs, but we're also keen to get feedback from colleagues. If you have any feedback or thoughts for improvement, please contact either Chris.Dry@education.gov.uk or James.Fisk@education.gov.uk .

You catch the latest updates on Academies and Maintained Schools Directorate (AMSD) on Twitter.

Read more on why GOV.UK content should be published in HTML

To keep in touch, sign up to email updates from this blog or follow us on Twitter.