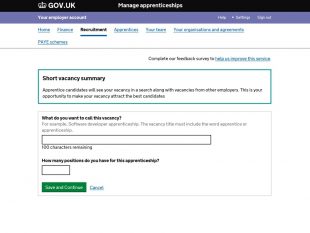 From November 2018, levy paying employers with an apprenticeship service account will notice a new "Recruitment" link on their account home page. This new link will give the employer direct access to the Recruit an apprentice tool, enabling them to create and post apprenticeship vacancies on Find an apprenticeship and manage applications.
Creating a vacancy through Recruit an apprentice is a simple and straightforward process. Employers can include a short vacancy summary which apprentice candidates will see when searching alongside vacancies from other employers. This section provides an opportunity to make a vacancy attract the best candidates. There is also a section underneath this where employers should add the title of the vacancy. This must include the word 'apprentice or 'apprenticeship', as well as how many positions there are for this vacancy.
Once submitted, vacancies are quality checked within 24 hours and are either posted, or returned for amendments and review.
In order to post a vacancy employers are required to have a relationship with a training provider. From user research with candidates we found that individuals want to see which training provider will be delivering the apprenticeship. Employers will need to reference the provider's UK Provider Reference number (UKPRN) when completing the vacancy request.
Employers that do not pay the apprenticeship levy and do not have an account on the apprenticeship service can still post their vacancies on Recruit an apprentice either with the support of their training provider or by contacting the National Apprenticeship Service on 08000 150 600.
We are always looking for employers to help our continuing development of the apprenticeship service. If you would like to be part of our user research on uploading vacancies through your apprenticeship service account get in touch User.RESEARCHERS@education.gov.uk
To keep in touch, sign up to email updates from this blog or follow us on Twitter.