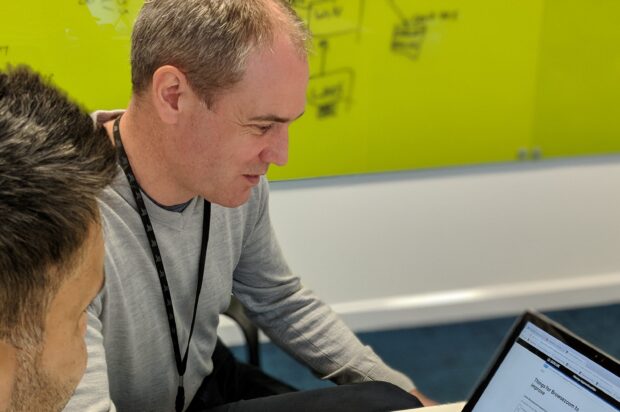 Product owner Paul Kelman tells us about a new apprenticeship feedback service designed to help employers share views on training providers.
We're developing an exciting new feature so that users can give feedback on aspects of their apprenticeship programmes. Initially we'll ask employers to give feedback on their training providers.
Why give feedback?
Employers want to know what other employers think of training providers - they regularly tell us this in our user research sessions. We have listened to employers who tell us that they want up-to-date information and to hear from their peers when it comes to apprenticeship training providers.
Who can give feedback
Feedback will initially be available to employers that use the apprenticeship service. We aim to bring all employers onto the apprenticeship service, so eventually everyone will be able to give feedback on the training providers that they use.
Capturing data
My team's challenge has been to capture and share useful feedback from employers. We had to understand what information our users needed, and figure out how to capture that information.
Our users asked for a quick and easy system that showed:
A high level rating to show what employers think of this training provider overall
The reasons why employers gave their overall rating
We created questions that take less than two minutes to answer. Employers will be given a list of attributes to select what a training provider does well and how they can improve. They then give an overall rating based on the quality of training and service. This is measured on a four-point scale from excellent to very poor.
We offer four choices to eliminate users automatically choosing the 'middle' option.
We tested several questions and formats with employers. They preferred the 'strengths' and 'things to improve' question because it was quick but gave insight into provider service.
Publishing feedback
We don't interpret scores or create algorithms, averages, or "good" or "bad" labels. We simply feedback exactly what our users have selected.
Anyone will be able to see this feedback when they search for a specific training provider in the Find apprenticeship training service.
Future enhancements
We are currently designing ways to notify training providers when they receive feedback so that they can address any issues raised.
In future, we plan to make employer feedback a key metric in all searches made on the Find apprenticeship training service. The aim is to give employers the information they need to help them filter search results so that they can choose training providers that best suit their needs.
We're also looking to allow users to filter feedback results based on the kind of feedback they want to see - for example, some employers are keen to only see reviews from employers in their sector.
Once the initial feedback model is up and running, we're looking to rollout a similar model more widely. We want employers to give feedback on specific apprenticeship standards and end-point assessment organisations.
The first release is due very soon. We'll start with a small number of users and steadily build it up. We'll learn, iterate, and improve.
For regular apprenticeship service updates follow @ESFAdigital