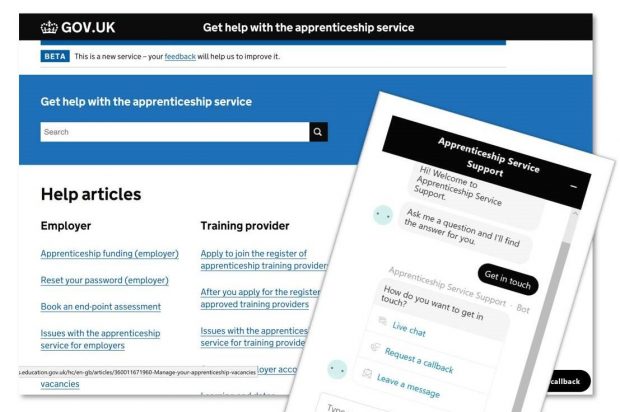 In part 1 of their blog, the support team working in the Apprenticeship Service describe how they have transformed the way they work to provide a responsive, data-driven service for their users.
Setting a vision for 21st century support
Supporting users of the apprenticeship service takes a lot of hard work. Like any government service with thousands of users, it requires maintenance and also customer support for when things don't run smoothly or unforeseen issues arise.
In early 2019, with government plans to expand the service by bringing all employers onboard and not just the larger companies that pay the apprenticeship levy, our leadership team decided to evaluate the support offer in place.
They found the support team worked with a number of unconnected systems that could result in a disjointed and frustrating user experience for our contact centre staff, and in turn, impacting on the journey of our end users. To achieve our vision of a high-quality support service, fit for the 21st century, we knew this had to change.
We defined our vision for apprenticeship service support and highlighted 4 distinct yet overlapping categories:
organisational restructure
improving our systems
transforming support
self-service
We worked through these categories in stages so we could measure the impact they had and avoid the potential disruption of a big bang approach.
Organisational restructure
Our old structure was great for dealing with the simple issues from a user base of around 20,000 employer accounts. Problems came as the service expanded and complex issues might not be resolved quickly, due to a reliance on escalating issues from our contact centre to internal subject matter experts, who work in busy teams with other priorities.
We decided to recruit, train and develop a 'technical support team' to bridge the gap between the contact centre and staff in the apprenticeship service. This team began discussing more complex issues directly with our users, significantly reducing support ticket resolution times.
Improving our systems
We moved from a number of disjointed systems to a single support desk platform known as Zendesk.
Moving to a single platform underpins our success by giving us a single view of our users throughout their support journey.
We've improved the user experience which makes us more efficient – customer advisors no longer need to switch between applications or work around disjointed systems. Our support team can pick up and understand any issue straightaway. They have access to a full history of previous queries, a knowledge database, and integrated support tools to assist in resolving customer queries.
This means our customers no longer have to explain their query more than once if they have multiple contacts with the support team.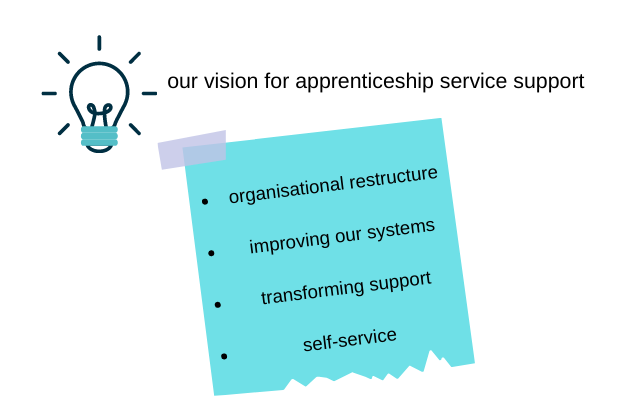 Transforming support
We've increased the number of support channels and made them more visible. Our old model relied on customers phoning or emailing customer service. Now our channels include web chat, web forms and SMS (text messages), plus instant callback if you request this when you ring us.
Our switch to more channels means our users can contact us in a manner they prefer. For example, our research has shown that apprentices tend to prefer web chat and text messages over email or phone support.
Since we went live with Zendesk in September 2019, we've responded to:
17,000 phone calls
10,000 emails
5,000 web forms
2,000 live web chat conversations
600 web widget callback requests
We have a commitment to respond to all email, web form and text messages within 4 hours, during our service opening hours of 8am to 8pm, Monday to Friday.
Self-service
Our online help centre is a completely new concept for the apprenticeship service. It's a collection of short knowledge articles where users can search for help on a topic, find our contact details and provide feedback.
To make sure we prioritised writing the right articles on topics users most needed, we ran user research sessions and analysed data from feedback surveys and contact centre queries.
We looked at the most common queries and identified key problem areas in the service, using this data to structure our approach. Next, we reviewed qualitative feedback from contact centre tickets to understand what these problems were in more detail. This data became the source material that shaped the knowledge articles.
Nudging users towards self-service by encouraging them to search knowledge articles first, before picking up a telephone, is a significant 'channel shift' that has saved us thousands of pounds already and will continue to create savings.
In the second part of our blog, we look at our 'digital by default' support model and how we have progressed to using bots powered by artificial intelligence (AI).
You can take a look at our online help centre here.