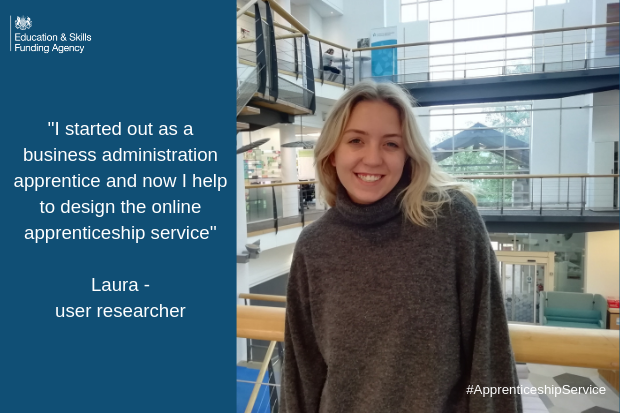 I started out as a business administration apprentice and now I help to design the online apprenticeship service.
When I was 17, I was studying A Levels at college and realised that I'm a more 'doing' kind of learner and having practical experience was much more appealing to me than textbooks and exams.
So I did some research into my career options and discovered that an apprenticeship could let me work, learn and earn all at the same time! I'd also have a recognised qualification at the end of it all.
I applied online for a Level 3 apprenticeship in business and administration at the Department for Education and started as an apprentice in their Coventry office in early 2015.
I felt this was my first real exposure to the 'proper world of work' as until then I'd only had part-time jobs as a waitress. My confidence grew rapidly.
Learning and earning
After completing my apprenticeship, I was offered a development opportunity to work for 3 months in the user research team for the apprenticeship service.
I enjoyed working as part of a team, talking with employers and training providers to try and better understand how they use the service.
On a typical day I outline what we want to test with users for a particular project strand and prepare discussion guides to help focus user feedback sessions.
We meet users face to face and observe them using our online service. This helps us to see what works best for users and what could be improved in the future.
It is really satisfying to be able to identify a clear user need with an employer and to then see it being developed in the service, so that all users can benefit from our research.
Next steps
After 2 years in the apprenticeship service I've been able to gain a promotion to user researcher and now have my own project team to focus on. Working in the civil service is great because there is so much training on offer and there's a clear career path with so many opportunities to learn and progress.
I'm so glad that I went for the apprenticeship route and I'd recommend it to anyone who prefers a hands-on approach to learning.
You can look for apprenticeship vacancies on our 'Find an apprenticeship' website. 

To keep in touch, sign up to email updates from this blog or follow us on Twitter.