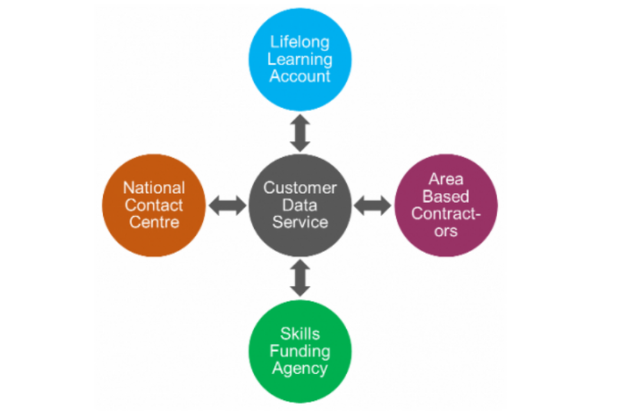 The SFA runs the National Careers Service, which offers careers information, advice and guidance to citizens. We work with a number of contractors to supply the service. While this works well, it led to challenges around sharing data. Each organisation had a different data system to store information on customers and there was no way to sync data between them.
To offer a better service to customers, we wanted all the different organisations responsible for delivering the National Careers Service to share customer data in near real-time. We wanted every organisation to see the same information and have a "single view of the customer". That is the significant achievement the Customer Data Service (CDS) project has delivered.
Giving customers a "single view of the service"
If you have a bank account, you can access the service in a number of ways: you can go into a branch and speak to someone in person, you can use telephone banking, or online banking.
However you access the service, you expect the information held about you to be consistent. If you go into a branch to change your details, you expect the changes to be visible across the service immediately. The same is true of the National Careers Service.
"So what?" you might be thinking. Well, the difference between a large corporate organisation like a bank and the National Careers Service is that a bank is autonomous, has a large central IT infrastructure, and can do what it wants when it wants.
The frontline service is delivered by nine different organisations, each with different IT systems, processes, release cycles, capabilities, priorities… you get the picture.
This presented a big challenge. How do you deliver a solution that brings these different systems together so it seems to the customer that the service is delivered by a single organisation? The answer is collaboration.
Collaboration is key
Aside from the solution itself, the really innovative part of this project is the way several different organisations came together to achieve a shared goal .
An Operational Working Group (OWG) brought together contractors, who'd be using the new system, and careers advisers, who knew what would and wouldn't work for customers.
The OWG consisted of:
the Product Owner (me)
Atos, the technology supplier
9 contractor organisations (4 building bespoke systems and 5 partnered with a single software provider)
We met at least monthly and with every sprint, asked questions that helped us shape our user stories into developments that made sense operationally. The group also helped us to prioritise our product backlog so that we were sure that whatever we delivered had the greatest impact on our service users: careers advisers and customers.
As Product Owner, being co-located with the technology provider meant that business decisions could be made quickly without the usual 'decision by committee' which so often drags a project down. It's essential to the success of a project like this that the Product Owner is empowered to make decisions and has sufficient knowledge about the service for those decisions to be informed ones.
A Product Owner needs to be just that: own the product and be accountable for the decisions they make.
Giving users ownership of their data
The fundamental difference for the customer is that we have transferred the ownership of their data into their hands. There are many scenarios that the Customer Data Service supports but let's look at a simple one.
John is facing redundancy. He doesn't know what to do about it because it's a long time since he last looked for work. He comes across the National Careers Service online and because there's a freephone number, decides to give them a call. John has never used the service before so is asked for his name, address and the reason he's calling.
The National Contact Centre operative realises that John is in need of some careers advice and transfers him through to the Area-Based Contractor (ABC) delivering the service in his area. John doesn't have to provide his information again because it has already been transferred through to the careers adviser.
John is given some careers advice and together they agree on a set of actions to help him. This is all recorded in an action plan. The adviser also tells John all about the benefits of a Lifelong Learning Account and explains how he can manage his action plan online.
John gets home to find an email from the National Careers Service with a link to the Lifelong Learning Account. John clicks on the link and completes the registration in a few simple steps. All the information captured in the conversation with his adviser is there – his contact details, his education, his record of attainment and his action plan. John is asked if he is satisfied with his action plan and the service he received from the careers adviser, and ticks the "yes" checkbox.
Over the next few months John updates his action plan as he completes tasks. Before too long, realises that it's time for a follow-up call with his careers adviser.
John doesn't have to waste time explaining to the adviser what he's been up to since they last spoke because it's all recorded in his Lifelong Learning Account which the advisor can see. They're free to focus on the next stage of John's journey.
Benefits for the SFA and suppliers
The introduction of the Customer Data Service has greatly improved our customers' experience of the service, but it's also delivered benefits for the SFA and suppliers. I'll talk more about this in my next post.
Follow @ESFAdigital on Twitter and don't forget to sign up for email alerts.
You may also be interested in other posts on the CDS: